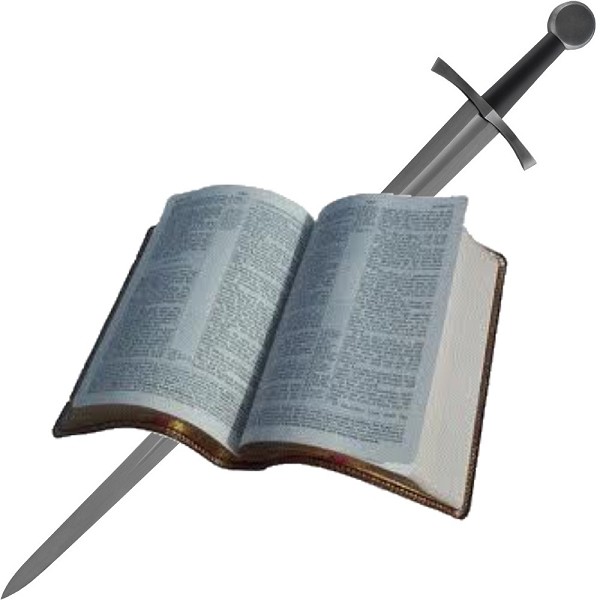 EST SEPTEMBER 1993


"There fell down many slain, because the war was of God."—1 Chronicles 5:22.
ARRIOR, fighting under the banner of the Lord Jesus, observe this verse with holy joy, for as it was in the days of old so is it now, if the war be of God the victory is sure. The sons of Reuben, and the Gadites, and the half tribe of Manasseh could barely muster five and forty thousand fighting men, and yet in their war with the Hagarites, they slew "men, an hundred thousand," "for they cried to God in the battle, and He was entreated of them, because they put their trust in Him." The Lord saveth not by many nor by few; it is ours to go forth in Jehovah's name if we be but a handful of men, for the Lord of Hosts is with us for our Captain. They did not neglect buckler, and sword, and bow, neither did they place their trust in these weapons; we must use all fitting means, but our confidence must rest in the Lord alone, for He is the sword and the shield of His people.
The great reason of their extraordinary success lay in the fact that "the war was of God." Beloved, in fighting with sin without and within, with error doctrinal or practical, with spiritual wickedness in high places or low places, with devils and the devil's allies, you are waging Jehovah's war, and unless He himself can be worsted, you need not fear defeat. Quail not before superior numbers, shrink not from difficulties or impossibilities, flinch not at wounds or death, smite with the two-edged sword of the Spirit, and the slain shall lie in heaps. The battle is the Lord's and He will deliver His enemies into our hands. With steadfast foot, strong hand, dauntless heart, and flaming zeal, rush to the conflict, and the hosts of evil shall fly like chaff before the gale.



C.H. Spurgeon
DAILY PROMISE

The LORD hath appeared of old unto me, saying, Yea, I have loved thee with an everlasting love: therefore with lovingkindness have I drawn thee. (Jeremiah 31:3)

Thank You so much, Lord, for loving me with an everlasting love. Teach me to love others the way You love me.



********** ********** ********** ********** ********** ********** ***
[Mat 24:34 KJV] 34 Verily I say unto you, This generation shall not pass, till all these things be fulfilled.

..... The fulfillment of Gods word is coming to pass before our very eyes. The Great " I AM " has given " whosoever will " the opportunity to accept Jesus and be Saved.
King David said;
[Psa 2:1 KJV] 1 Why do the heathen rage, and the people imagine a vain thing?

...Because Pride, The Flesh and The devil have convinced the lost of this world that the only thing that matters is

them

, the great sea of humanity and the

Global Community

....My prayer is that this pestilence will open the eyes of the world and while they are on their knees, The Precious Holy Spirit will convict them of their lost condition through the preaching of the finished work of Jesus Christ on the Cross and His Resurrection from the dead, seated at The Father's right hand to make intercession for all who will come to him......

[Luk 21:28 KJV] 28 And when these things begin to come to pass, then look up, and lift up your heads; for your redemption draweth nigh.

.
********** ********** ********** ********** ********** ********** ********** **********
********** ********** ********** ********** ********** ********** ********** ********** *********

There is only one way to heaven
JESUS said: "I am the way, the Truth, and the Life: no man cometh unto the Father but by Me. (john 14:6)
Good works cannot save you.
"for by grace are ye saved through faith; and that not of yourselves: it is the gift of God: not of works, lest any man should boast." (ephesians 2:8-9)
trust jesus christ today! here's what you must do:
confess to God that you are a sinner, in need of a Savior.
"for all have sinned, and come short of the glory of God;" (romans 3:23)
"wherefore, as by one man sin entered into the world, and death by sin; and so death passed upon all men, for that all have sinned:" (romans 5:12)
"if we say that we have not sinned, we make him a liar, and his word is not in us." (1 john 1:10)
2. Believe that Jesus Christ died for you, was buried, and rose from the dead
"for God so loved the world, that he gave his only begotten Son, that whosoever believeth in him should not perish, but have everlasting life." (john 3:16)
"but God commendeth his love toward us, in that, while we were yet sinners. Christ died for us." (romans 5:8)
"that if thou shalt confess with thy mouth the lord Jesus, and shalt believe in thine heart that God hath raised him from the dead, thou shalt be saved." (romans 10:9)
Through prayer, invite Jesus into your life to become your personal saviour.
"for with the heart man believeth unto righteousness; and with the mouth confession is made unto salvation." (romans 10:10)
3. Turn from sin and repent
Jesus said: "i tell you, nay: but, except ye repent, ye shall all likewise perish." (luke 13:5)
"and the times of this ignorance God winked at; but now commandeth all men every where to repent:" (acts 17:30)
"for whosoever shall call upon the name of the lord shall be saved." (romans 10:13)
"but as many as received him, to them gave he power to become the sons of God, even to them that believe on his name:" (john 1:12)
"therefore if any man be in Christ, he is a new creature: old things are passed away; behold, all things are become new." (2 corinthians 5:17)
---
if you have received jesus christ as your saviour, as a christian you should:
Read your bible

every day to get to know Christ better.
"study to shew thyself approved unto God, a workman that needeth not to be ashamed, rightly dividing the word of truth." (2 timothy 2:15)
"thy word is a lamp unto my feet, and a light unto my path." (psalms 119:105)
Talk to God

in prayer every day.
"and all things, whatsoever ye shall ask in prayer, believing, ye shall receive." (matthew 21:22)
"be careful for nothing; but in every thing by prayer and supplication with thanksgiving let your requests be made known unto God." (philippians 4:6)
Be baptized, worship, fellowship, and serve

with other christians in a church where Christ is preached and the bible is the final authority.
"go ye therefore, and teach all nations, baptizing them in the name of the Father, and of the Son, and of the Holy Ghost:" (matthew 28:19)
"not forsaking the assembling of ourselves together, as the manner of some is; but exhorting one another: and so much the more, as ye see the day approaching."
(hebrews 10:25)
"all scripture is given by inspiration of god, and is profitable for doctrine, for reproof, for correction, for instruction in righteousness:" (2 timothy 3:16)
Tell others

about Christ.
"and he said unto them, go ye into all the world, and preach the gospel to every creature." (mark 16:15)
"for though i preach the gospel, i have nothing to glory of: for necessity is laid upon me; yea, woe is unto me, if i preach not the gospel!" (1 corinthians 9:16)
"for i am not ashamed of the gospel of Christ: for it is the power of God unto salvation to every one that believeth; to the jew first, and also to the greek." (romans 1:16)